Australian first "design-to-rent" residential tower proposed for Docklands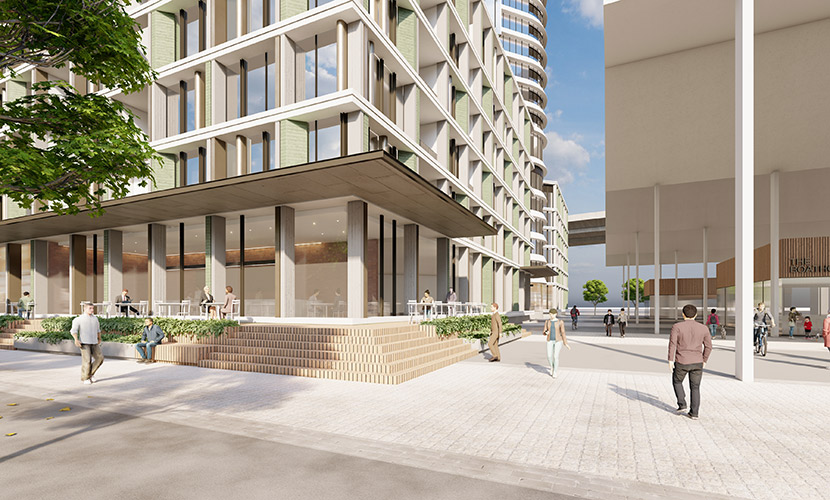 By Brendan Rees
A prime waterside Docklands location could be home to a new "designed-to-rent" mixed-use tower, said to be the first of its kind in Australia.
Developer Samma Property Group announced it had partnered with investment firm Brightlight to acquire 194 Lorimer St, an expansive stand alone site along Yarra's Edge and within walking distance of Marvel Stadium and the Melbourne Exhibition and Convention Centre.
The site, which would boast stunning views towards the CBD, Yarra River, and Port Phillip Bay, comes with an existing approved Precinct Development Plan for a 90-metre residential tower, although the tower itself would be subject to approval.
It also forms part of the Bolte West Precinct site incorporating the heritage Shed 21 which has long been touted for a community boating operations hub by Development Victoria and the City of Melbourne.
The proposed development would form part of 1412 apartments created across Samma Property Group's four Melbourne-based developments from 2022 to 2055 for more than 2800 residents.
Design-to-rent is an evolution from the build-to-rent concept which is growing in Australia with residential developments typically owned privately for the long term for the purposes of renting out.
Brightlight managing director Samuel Richards said the proposal offered a private sector solution to Victoria's affordable housing issue by providing access to housing, and encouraging long term, stable tenancies.
He said the partnership offered a "unique alignment" between an "Australian community need for intentionally-designed, well-located, longer-tenancy housing and the need for investors to hold long term, yield-oriented defensive assets".
The proposed Lorimer St tower would be aimed at millennials aged 25 to 45 years, with residences offering "a luxurious yet affordable" inner-city lifestyle as well as "impressive" environmental credentials including a star NatHERS rating and five-star green star certification.
The tower would also have an onsite management team available to serve and support residents and an activity program aimed to foster connection and improve mental health and wellbeing.
Samma Property Group director Simon Abdelmalak said the proposal presented an "exciting opportunity" after it identified a noticeable gap in the build-to-rent space.
"With such close proximity to world-class amenities, the DTR [design-to-rent] model proposed for Lorimer St affords a fantastic lifestyle opportunity," he said.
"Location, coupled with our commitment to incorporating integral design features that promote community connection, high-quality built outcomes and environmental standards, will provide a luxurious yet affordable offering not yet seen before in Australia."
Geoff Ward, Group Head at Development Victoria, welcomed the proposal, saying it was "another significant commitment" to the Yarra's Edge precinct.
"The delivery of a high-quality build-to-rent development at Yarra's Edge in Docklands is a positive indication of ongoing confidence in the property market in Melbourne and Docklands," he said.
Build-to-rent is becoming more appealing across the Victorian market, and it is encouraging to see Docklands as being sought out for this kind of development.
The new DTR model comes as the state government, along with local businesses and developers look to lure Victorians back to the city post-pandemic, with the economic recovery plan focused on rebuilding the city's vibrancy and community connection.
Following the purchase of the Lorimer St site from global commercial real estate services firm Cushman & Wakefield's Lukas Byrns & Marcus Neill for an undisclosed sum, Samma and Brightlight are currently capital raising for $750 million, leading with a development planned for 65 Haig St, Southbank, due to start construction within the next five months.
Longer term, Samma and Brightlight are building a pipeline comprising 11 DTR developments (inclusive of the four shovel-ready projects), boasting 3144 apartments for more than 6200 residents and is expected to be valued at more than $1.7 billion by 2028 •
May 4th, 2022 - Ellen Sandell
May 4th, 2022 - Abby Crawford
Subscribe
to
all
the
news
Join Our Facebook Group
Download the Latest Edition