New Docklands ferry terminal gets green light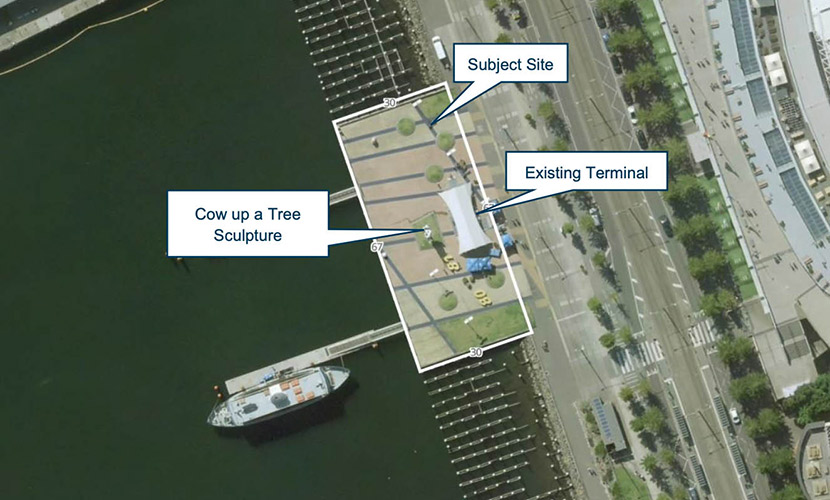 By Brendan Rees
A new ferry passenger terminal dubbed the next "Flinders Street Station of water transport services" will be built in Docklands after winning the City of Melbourne's approval.
Port Phillip Ferries has been granted planning approval to construct the new passenger terminal and community hub at Harbour Esplanade in what could be a huge boost to activate the waterway and bring much-needed visitors to the precinct – with passengers commuting between Melbourne, Geelong, and Portarlington.
The new passenger terminal would feature a café, waiting room, foyer, veranda, bathrooms, ticketing office, deck, and a ramp with views of Victoria Harbour.
A community hub building promises to offer an "abundance of information" targeting the local and tourism markets including multiple digital video screens, brochure walls and an information hub in the foyer.
The current ferry station, which is located on Crown land but managed by the City of Melbourne, would be demolished to make way for the passenger terminal.
It comes after a planning application was lodged in July by Port Phillip Ferries, which is owned by billionaire and former Essendon Football Club chairman Paul Little.
Deputy Lord Mayor Nicholas Reece said the new ferry terminal and community hub would "play a vital role" in the city's recovery from the pandemic.
"We're excited that a brand-new ferry terminal will be built right in the heart of Docklands," he said. "Victoria Harbour is an underrated and beautiful location and Docklands is a key growth area within our city which will play a vital role in Melbourne's recovery."
"By improving the quality of the terminal's facilities, we hope it'll help drive up visitation for Docklands."
"There is every reason to believe Victoria Harbour could be as popular as Circular Quay in Sydney, or better yet, it could be the Flinders Street Station of water transport services."
Geoff Ward, group head of precincts at Development Victoria, praised the proposal as a "great solution" for the existing passenger terminal after working closely with Port Phillip Ferries and the City of Melbourne on the planned upgrade for ferry and boat operators.
The new upgraded hub will be a key pick up and drop off point for operators and will support the continued operation of the charter fleet and ferry services in Victoria Harbour – an important link for commuters, visitors and residents to access the wider Docklands precinct.
"We look forward to announcing more detailed plans in the coming months as we continue to work with Port Phillip Ferries and other key stakeholders."
However, president of the Melbourne Passenger Boating Association Jeff Gordon, who owns the Melbourne Showboat Lady Cutler, is among many boat operators in Docklands to have expressed concern that the new passenger terminal wouldn't be a shared facility.
"I think it's very good what's happening," Mr Gordon said but added "It's got to be for the greater good of the public".
"If Port Phillip Ferries were told to consult us and ask us what our needs were and come with a plan that suits both we'd to be more than happy with that," he said.
"They're claiming an area which is a public area for their own use … but it leaves us completely out in the cold we think at the moment."
Nicholas Hill, owner operator of Melbourne Party Boats and Boat Charters, said, "it would be disappointing if the charter boats were left out".
"We've been constantly moving for the last five years … some of the old piers have been in disrepair," he said.
"It's that prime position for people to get on and off. The closest access point is Harbour Esplanade. It would be good if it was a shared wharf or set of piers."
Akshay Bhatia of Victoria Star Cruises said while it was a "good thing" that the new ferry passenger terminal would activate the waterways, he hoped there would be a "level playing field" for all boat operators to use it.
"I think any boat operator would love to have access to it and if that is the case I think it's fantastic, if it's not then obviously that makes life a little more difficult," he said.
Justin Dixon of Party Boat Cruises said, "We're really keen to see it as a shared facility just to continue driving a successful tourism path and a lot of foot traffic hopefully back in Docklands."
Docklands Representative Group spokeswoman Dr Janette Corcoran said the new ferry terminal had the opportunity "to be woven into the fabric of Docklands" but was worried it could "go one way or the another".
"It's an opportunity … it can be very transactional and be just a transit hub or it could be much more," she said with hopes Port Phillip Ferries would engage with the community "a little bit more".
"It would be great if they took a forward-looking role into the wellbeing of the harbour in all their operations," Dr Corcoran said.
"The terminal here is exceptionally important to the fabric and the future of Docklands."
Port Phillip Ferries has attracted around 300,000 visitors to the area in the past four years and is expected to grow.
The proposed building would accommodate up to 100 people and open seven days a week from 6am to 8pm on weekdays, and 9am to 8pm on weekends and public holidays.
The project will be delivered in conjunction with Development Victoria, the City of Melbourne and other key stakeholders •
June 29th, 2022 - Tim Martin
June 29th, 2022 - Dr Mike Edgley
Subscribe
to
all
the
news
Join Our Facebook Group
Download the Latest Edition