A "special place" on the water: New dragon boat club brings survivors together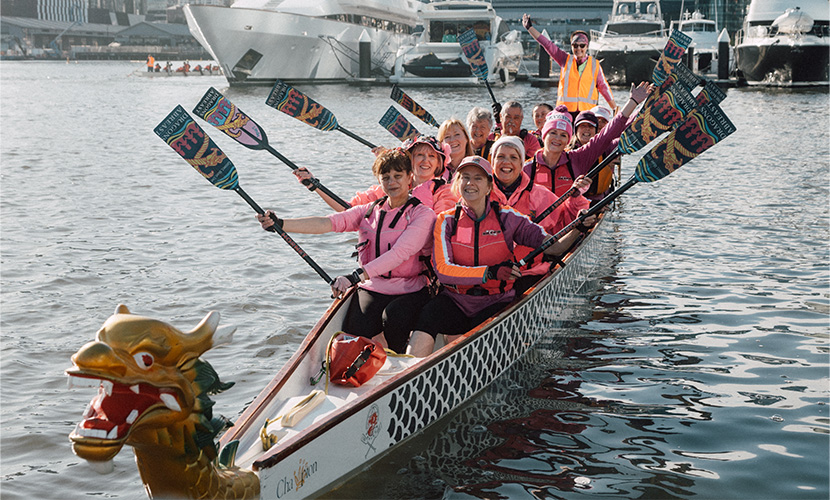 David Schout | 29th June, 2022
Docklands' newest dragon boat club has launched out of Victoria Harbour, and the team is made up entirely of breast cancer survivors and their supporters.
When Andrea Seers had lymph nodes removed from under her arms during breast cancer treatment she, like many women in the same position, recalls the "absolute agony" of moving her arms upwards.
She could not raise her arms above her head at all, and as part of physiotherapy had to train herself to creep her fingers up the wall "like a spider" to gradually gain her strength back.
There was another activity, however, that aided her recovery during this intensely difficult time.
Dragon boat paddling, a sport with now strong associations in Docklands, proved to be the perfect recovery mechanism for Andrea for a number of reasons.
Physically, it was the ideal exercise.
"The constant repetition of every week going to gently paddle around Docklands and keeping those arms moving and keeping them strong is incredible," she said.
But the activity is much more than a way in which to regain strength.
And as of recently, Andrea and a number of other breast cancer survivors have formed a new club called Dragons Abreast Melbourne Pink Phoenix (of which she is the president) based out of the Community Boating Hub in Victoria Harbour.
She told Docklands News that the importance of being surrounded by others who had experienced the same "attack" on their body simply couldn't be understated.
"When you've had those very invasive treatments of having your breasts removed and going through chemotherapy, and losing all your hair and your femininity, a lot of women including myself didn't really start to feel that we could emote about these things until we were completely surrounded by other women who've been through the same thing. It's a very special space that we have in the boat for that, to provide that friendship and support."
The connection between Dragon Boating and breast cancer survivors is far from random.
In the 1990s, the prevailing medical thinking was that woman treated for breast cancer should avoid rigorous upper body exercise for fear of developing lymphoedema, a debilitating and chronic side-effect of treatment.
However, Dr Don McKenzie, an exercise physiologist and a professor of sports medicine at the University of British Columbia in Canada, challenged that notion.
According to the International Breast Cancer Paddlers' Commission, Dr McKenzie developed a program to determine the impact of exercise on breast cancer survivors and chose dragon boat paddling as the epitome of strenuous, repetitive upper body exercise.
He trained 24 breast cancer volunteers in a gym for three months, introduced them to dragon boats and taught them paddling techniques.
And, at the end of the three-month season on the water, none of the volunteers had lymphoedema.
The movement grew on the back of this, and there are now teams all over the world including locally under the Dragons Abreast Australia umbrella.
For Andrea and her new team, the crew is made of up women at different stages of recovery, and there was "absolutely no pressure to paddle like a maniac".
"We don't anyway," she said with a laugh.
And it's not all exercise, anyway.
"After practice every week we go to Saluministi cafe and sometimes we'll sit there for an hour eating cakes and drinking and laughing."
For her, however, the activity gave the added purpose to remaining fit and healthy.
"It's very inspirational. You do it for yourself, but you also do it for the rest of your team because you don't want to let them down. You keep yourself fit so that when we have new breast cancer survivors in the boat they can see where they can go with this. They can be happy and healthy, and supported."
The team don't just welcome survivors, too.
"We always invite anyone who is going through their treatments now to just come and sit in the boat, get that fresh air and see the incredible view of Marvel Stadium from the water. They always leave the boat smiling their heads off and it just makes our day. If anything like that happened to me during my treatment, it would've made me cry."
There are now plans for a national breast cancer regatta, pencilled in for Saturday, December 3 in Docklands.
The "Pink Paddle Power Regatta" would be the first of its kind here and aimed to raise awareness of the benefits of dragon boating for breast cancer survivors.
The organising committee is now eagerly on the hunt for a grant to help support the event.
She said that it remained "a really hard sell to encourage women who feel like they've been physically and mentally attacked [through treatment] to come along" to paddle on the water, and urged anyone in this position to join what is an inclusive and supportive team.
For more information about Dragons Abreast Melbourne Pink Phoenix, visit damelbournepinkphoenix.com.au
August 3rd, 2022 - Docklands News
August 3rd, 2022 - Jackie Watts
Subscribe
to
all
the
news
Join Our Facebook Group
Download the Latest Edition