Our beloved Star to shine in Docklands no more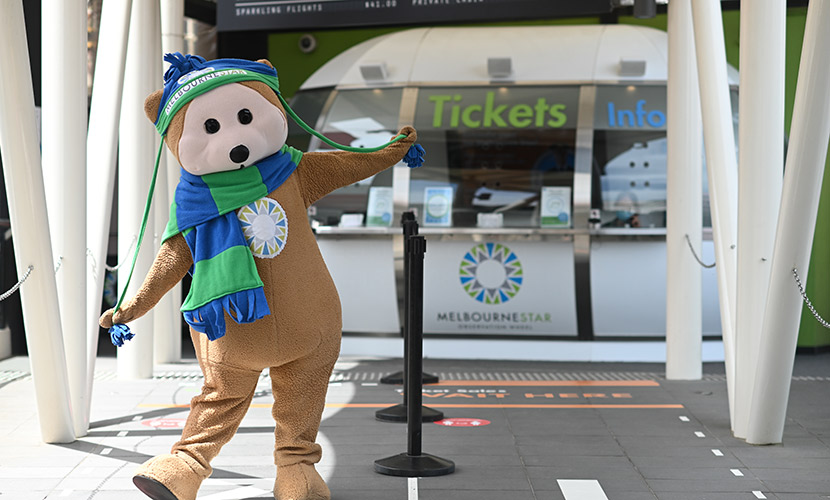 Sean Car | 29th September, 2021
Docklanders were forced to say farewell to their much-loved Melbourne Star Observation Wheel last month, which has become the latest casualty of the COVID-19 pandemic.
Despite suffering more than its fair share of hiccups since first opening in 2008 as the "Southern Star", the Melbourne Star's past six years of consistent operations saw it catapult into becoming a popular attraction and an icon for our city.
But following Victoria's ongoing COVID-19 lockdowns, a statement from Melbourne Star's owner MB Star Properties Pty Ltd on September 6 confirmed that it would be closed permanently.
"It is with a heavy heart that the directors of Melbourne Star, Melbourne's giant observation wheel at Docklands, today announce the iconic attraction will close permanently and the operating company, MB Star Properties Pty Ltd, will be placed into liquidation," the statement read.
"The giant observation wheel has been a part of the city's skyline for more than 15 years, during which time it has welcomed more than 300,000 visitors every year, with international and interstate tourists making up 45 per cent of the business."
Unfortunately, the global COVID-19 pandemic and subsequent travel restrictions and sustained shutdowns, adding to pre-existing challenges of operating amid increased high-rise development and changes in the Docklands area, has made it impossible to sustain the business.
"We thank our staff, and all Victorians including our partners, suppliers and supporters for enabling the Melbourne Star to provide a world-class experience for millions of people from around Australia and the world."
The statement also said that the company's directors were "absolutely committed to doing the right thing" by its dedicated staff and had arranged to ensure all its employees would be paid their full entitlements.
Andrew Hewitt of Grant Thornton has been appointed liquidator and he began work following the announcement.
After originally opening in 2008, the Star initially only operated for five weeks before cracks appeared in the structure's bracing. Following a redesign and another major safety incident when it broke from its restraints in 2011, the Star finally reopened five years later at the end of 2013.
Under the new ownership of its original Japanese designer and builder the Sanoyas Group, business improved after being purchased from original owner ING Real Estate for an estimated $60 million.
In February 2020 it won the award for best large business in Docklands, as well as the arts, entertainment and attraction category in the Docklands Business Awards hosted by the Docklands Chamber of Commerce.
In February this year, just a few months after reopening from a 231-day closure during Victoria's second wave of COVID-19, Sanoyas Group sold Melbourne Star to Swiss company Robu Group, which operated the business under MB Star Properties.
It is not yet known what will become of the attraction with liquidators to decide whether to dismantle the structure.
The Age reported on September 21 that a creditors report filed with the Australian Securities and Investments Commission (ASIC) had shown that the Melbourne Star had accumulated more than $3.9 million in debt. This figure is expected to grow.
Its general manager Nicole Hill had told Docklands News in June that the ongoing lockdowns had proven "extremely tough on us as a business".
"As always our first focus was our staff, we have more than 35 permanent staff and were able to continue to support them and provide work to keep them engaged over this time," she said.
Its permanent closure is a sad end to what represents a huge loss to the Docklands community, with the Melbourne Star having achieved so much for the local area during it years of operation at The District Docklands.
Led by Ms Hill, the Melbourne Star team has provided so many highlights and activations for Docklands and Melbourne over the years and many Docklanders took to social media last month to express their hopes that another operator would take it on.
But what it seems will be missed the most is the absence of its "beautiful lights" from our night sky in Docklands.
"Docklands already feels empty without the lights! Such a shame," one person wrote in the Docklands Community Hub Facebook group.
Others said, "This is so upsetting and sad. The colours have been so magical right through the lockdowns. This is Docklands symbol" and, "Yes, I am feeling so sad. I am hoping someone will buy it and rescue this amazing Melbourne icon. We really enjoyed the colour and patterns every night."
Docklands News thanks the Melbourne Star Observation Wheel team for its wonderful contribution to Docklands and Melbourne, and its valued support and collaboration with this newspaper over many years.
What will you miss the most about the Melbourne Star? Share your thoughts and memories with [email protected] •
August 3rd, 2022 - Docklands News
August 3rd, 2022 - Jackie Watts
Subscribe
to
all
the
news
Join Our Facebook Group
Download the Latest Edition