Have you met the mayor?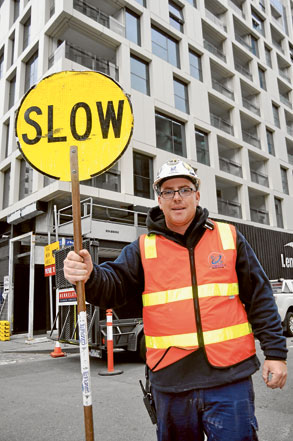 As much as they want their suburb completed, Docklanders will be sorry to see popular flagman Shane Foggie move on when 888 Collins St is completed.
The traffic controller has spent many years on Docklands projects but has become a local identity in his latest role.
Standing on the corner of Bourke St and Seafarers Lane for a couple of years may not sound a dream job, but Shane has certainly made an impression.
Gregarious and helpful, he has endeared himself to local residents, traders and, most specifically, with parents who drop their kids off at the Harbour Family and Children's Centre.
Shane donated a hard-hat to the centre and it's being displayed in a glass case!
"It's not just about stopping the traffic for the kids," the proclaimed "Mayor of Docklands" said. "It's about making them feel special."
Over at a local fast-food outlet, construction workers ask for the "Shane Special" to get the best possible deal. He even claims to have a "little bit of pull" with the parking inspectors.
But, as much he likes Docklands, he wouldn't want to live here. "I'm a backyard sort of a person," he said.
The 30-year-old commutes from Mill Park and hopes to be making the journey for a few months yet.
As the eyes and ears of the neighbourhood, he's experienced some strange things – such as people seeking directions to the Dandenongs. Others have expected to hit the freeway at the end of Bourke St.
"You never know the next location," he said. We hope it's right here in Docklands. Good on ya Shane!
December 1st, 2021 - Tom Bacon
December 1st, 2021 - Shane Wylie
Subscribe
to
all
the
news
Join Our Facebook Group
Download the Latest Edition